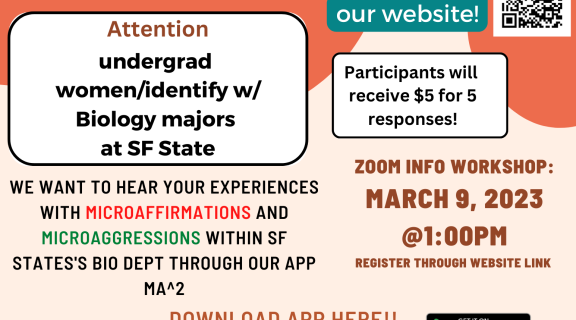 Shifting Perspectives Info Session
Thursday, March 09
Event Time
01:00 p.m. - 02:00 p.m.
Overview
Shifting Perspectives, a project under SF BUILD funded by NSF IUSE HSI, aims to combat the disparities that prevent women of color from finding their place in biology.​ At SF State, there exists a unique opportunity to learn more about women of color in biology. We were recently awarded the NSF ISUE HSI grant to do just that. Our first phase involves gathering information about the experiences of all women in biology through an app called MA2. ​
We want to hear about your experiences with microaffirmations and microaggressions within the biology department at SF State through an app called MA2. As part of your participation, you will be eligible to receive a $5 Target digital gift card for the first 5 responses you submit.
Eligibility
Undergraduate women or women-identifying biology majors at SF State.
Register for Info Session
How to Participate
Download the MA2 app on the App Store or Google Play.
Fill out the pre-measure survey.
Submit microaggression/microaffirmation reports. Instructions on how to use the app and how to claim your incentive can be found below.