If you're interested in collaborating in our projects or programs, check out our programs below.
Did you know? Faculty at SF State and UCSF collaborate on projects for student training and development in biomedical research relevant to local communities. Through collaboration with faculty, we contribute to transforming the teaching and research environments at the partner institutions into affirming, productive, and safe spaces for all science students; and increase the capacity for innovative research that addresses complex health issues.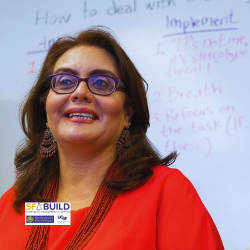 SF BUILD Faculty Agents of Change (FAoC)
The SF BUILD Faculty Agents of Change (FAoC) group is interested in reducing Stereotype Threat and building an affirming and inclusive environment in STEM courses.
Learn how you can join the FAoC.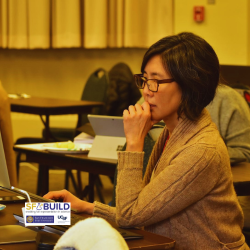 SF BUILD Writing Retreat
If you've ever felt like you never have time to write because of your busy schedule, this retreat is perfect for you. You'll be joined by 40+ researchers from SF State and UCSF via Zoom. The aim of the writing retreat is to give you dedicated time without interruption to focus on your writing. There are opportunities to get 1-on-1 feedback from seasoned writing consultants if you're considering submitting a grant proposal, manuscript, etc.