Update Fall 2023: Apps are open until October 17, 2023.
Goals of the SF BUILD Merck Scholarship 
Provide an academic scholarship for students who are engaged in biomedical research projects that impact community health
Provide students with travel funds for conference opportunities pertaining to biomedical research that impacts community health
Provide professional development for students in biomedical sciences who are engaged in social justice work 
Connect students to a wider network of professionals and students working to support social justice in biomedical science 
How will the SF BUILD Merck Scholarship benefit me in my career?
Supply financial support for academic and travel expenses for conference opportunities 
Provide networking, peer mentoring, and community building
$2,000 award
Program Requirements and Expectations
Participate in one SF BUILD AoC (Agents of Change) Workshop or asynchronous online module.
Complete an essay reflecting on the impact of this scholarship on your academic path at the end of the semester.
Eligibility
Currently enrolled as an undergraduate or master's student at SF State in a biomedical major
Intent to pursue graduate or professional school within 1-2 years
Interested in biomedical research relevant to community health
Committed to social justice through the use of science 
Currently involved, or previously participated, in supporting community-engaged research
Apply by signing in and completing the Supplemental Questions on Academic Works 
Feel free to reach out to Carol Umanzor at cumanzor@sfsu.edu with any questions you may have. 
Frequently Asked Questions
On the Academic Works website, you can find the "Sign In" button at the upper-right corner of the website. It will take you to the sign in page and simply sign in with your SF State ID and password.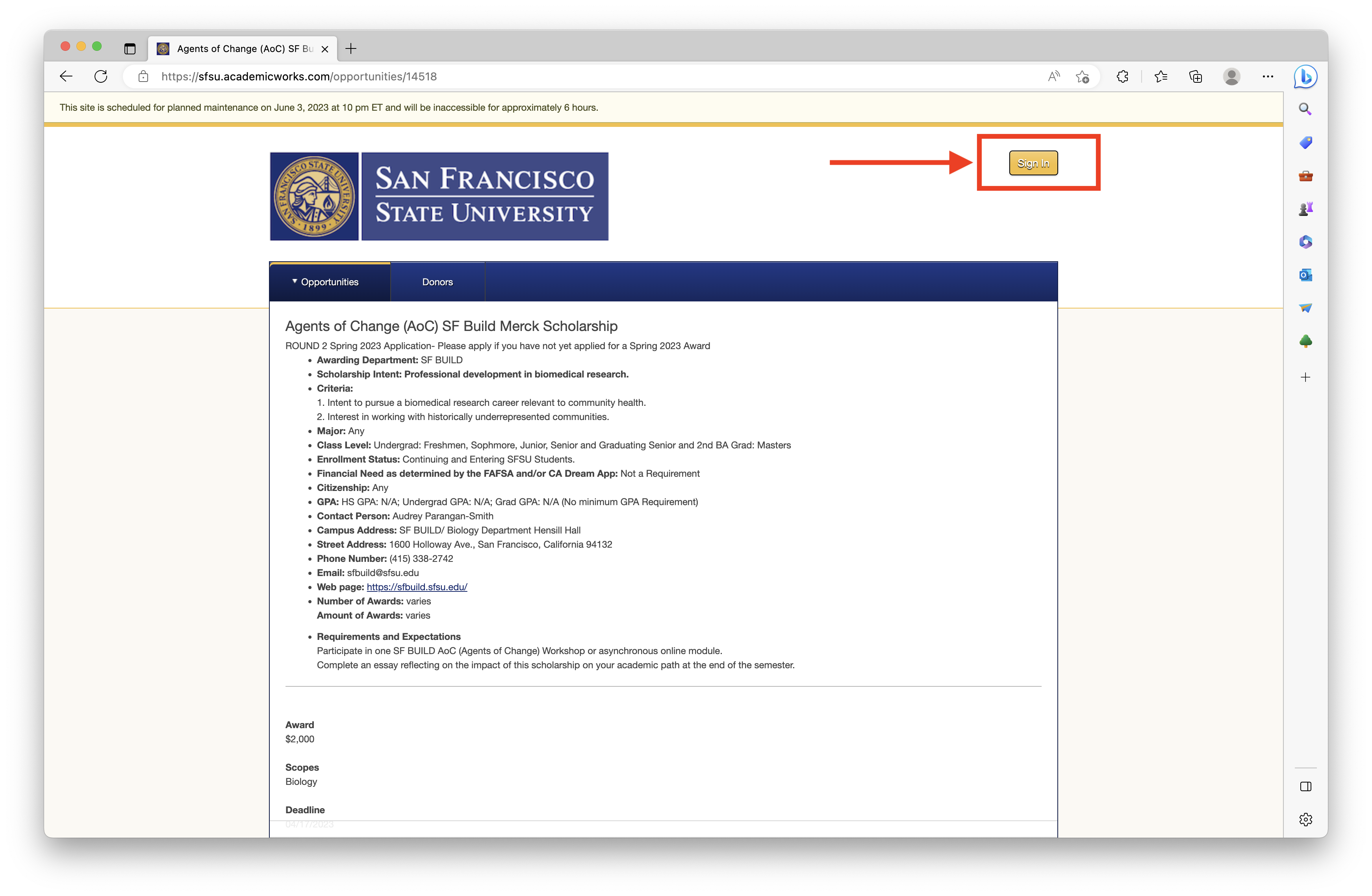 No. If you've logged into the Academic Works website, you should be able to submit your answers to the supplemental questions via the website.