Applications are closed as of April 17, 2023. See you next year!
Join the Clinical Research Coordinators: Learners For Equity (CIRCLE) Training Program: For Seniors, Post-Baccalaureates, and Graduate Students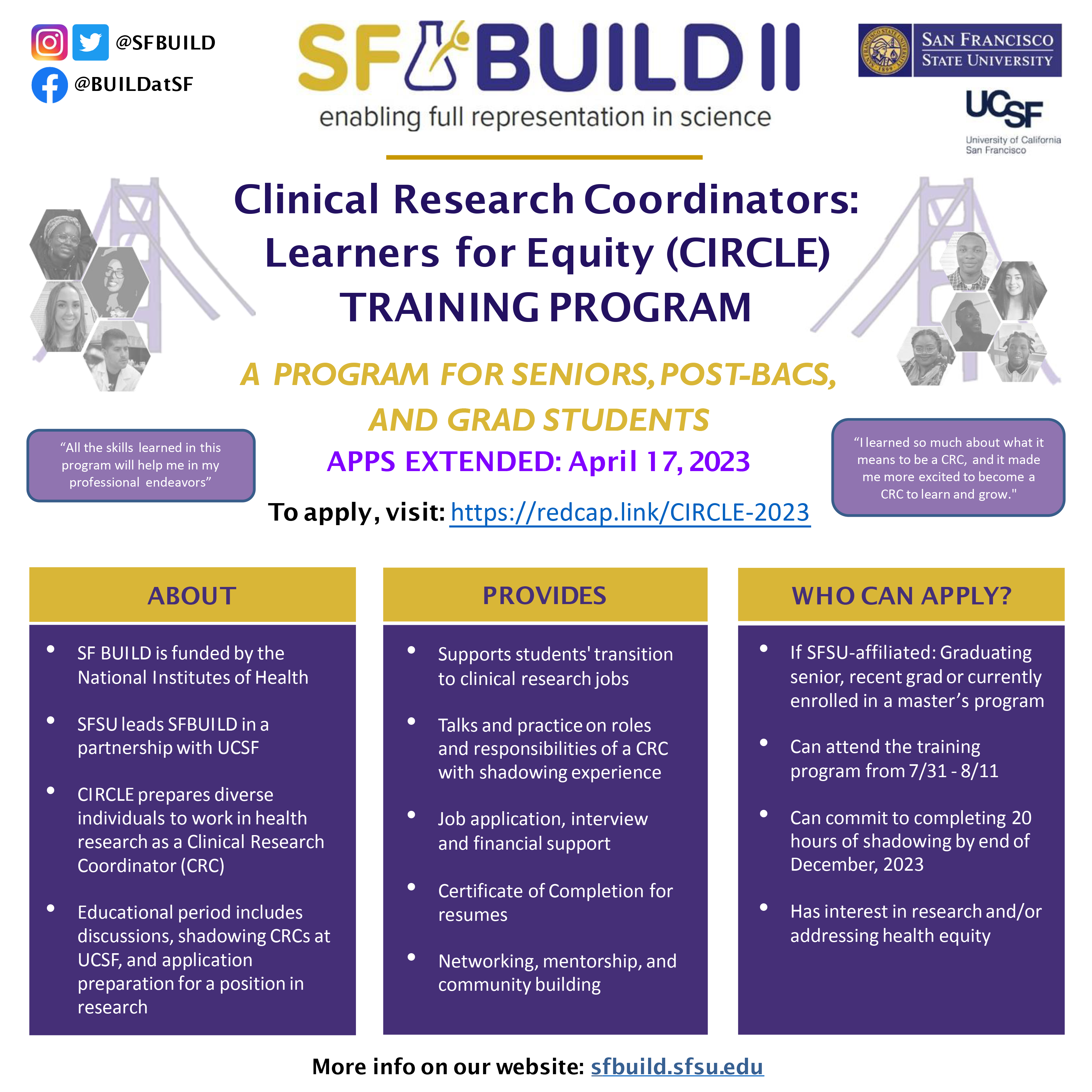 About
SF BUILD is funded by the National Institutes of Health.

SF State leads SF BUILD in a partnership with UCSF

CIRCLE prepares diverse individuals to work in health research as a Clinical Research Coordinator (CRC)

Educational period includes discussions, shadowing CRCs at UCSF, and application preparation for a position in research
Provides
Supports students' transition to clinical research jobs

Talks and practice on roles and responsibilitiesofaCRC with shadowing experience

Job application, interview, and financial support

Certificate of Completion for resumes

Networking, mentorship, and community building
Eligibility
SF State: Graduating senior, recent grad, or currently enrolled in a master's program

Can attend the training program from 7/31 - 8/11

Commit to completing 20 hours of shadowing by end of December 2023

Has interest in research and/or addressing health equity
How to Apply
To apply, fill out the application form.
FAQ
Below are some frequently asked questions on the CIRCLE Training Program:
The CIRCLE training program is part of the SF BUILD (Building Infrastructure Leading to Diversity) project, which is funded by the National Institutes of Health (NIH) and whose goal is to diversify the biomedical workforce.  SF BUILD is led by San Francisco State University in partnership with UCSF. 
The CIRCLE training program is composed of didactic modules and a shadowing experience. The didactic modules are based on the core competencies for the clinical research professional. In addition, we will provide professional development sessions that will prepare scholars to apply for a CRC position at the end of the training program, as well as opportunities to network. Last year, 80% of our scholars found employment at UCSF (half in permanent positions) and while we cannot guarantee that you will find a job at UCSF, we can provide guidance and resources during the job application process that can be used in future job searches.
A clinical research coordinator (CRC) supports, facilitates, and organizes the daily activities of a clinical study. A CRC is part of a team conducting research involving human volunteers (study participants) to identify new evidence/facts towards a theory or topic in a specific field in science/health care by gathering data in a systematic approach, also known as a clinical study.
In general, CRCs are responsible for the day-to-day activities for the study, such as:
Institutional Review Board (IRB) submissions (initial, modifications, reporting, renewal)
Protocol Development/Standard Operating Procedures
Research participant screening
Recruitment and enrollment of study participants
Data entry
Study participant tracking/scheduling
Data cleaning
Correspondence with participants or pertinent organizations, both internal (IRB or pertinent groups/departments within the organization) and external (sponsor, monitors, or vendors)
In addition, a CRC might assist with:
Literature searches
Presentations 
Manuscript preparation
The theoretical and practical modules will take place during the summer from August 1st to August 12th, 2022 via Zoom.
Yes, you will receive a compensation during your participation in the program.
As part of the shadowing experience, scholars will follow CRCs from UCSF for a total of 20 hours during the Fall Semester, which will need to be completed by December 31st, 2023. Depending on COVID-19 guidelines, the shadowing experience might be virtual, hybrid, or in-person.
Yes, when the scholars complete their shadowing experiences.
No, letters of rec are not required. You just need to submit the contact information for your references. In this manner, the CIRCLE application committee can contact the references on your list if they desire to do so.